Tradition Interrupted
July 10 -
September 25, 2022
Get tickets
The artists of Tradition Interrupted are merging age-old media and technique with innovation, and re-visioning culturally historic ideas to create new work that interrupt traditional practice but still collaborates with the past. For generations, traditional craft and art practices held steadfast and often visually defined a culture. Today, artists are unraveling certain traits and facets of these ancient customs to redefine or reclaim them for the contemporary world.
For many of the artists in Tradition Interrupted, everyday objects are sources of powerful agency to recall memories in danger of being forgotten, or to call into question revisionist histories. Many of the artists work in a conceptually "uncomfortable" space with the traditions and theories of their past as they create hybrid artworks that address contemporary concepts and concerns
Exhibition Images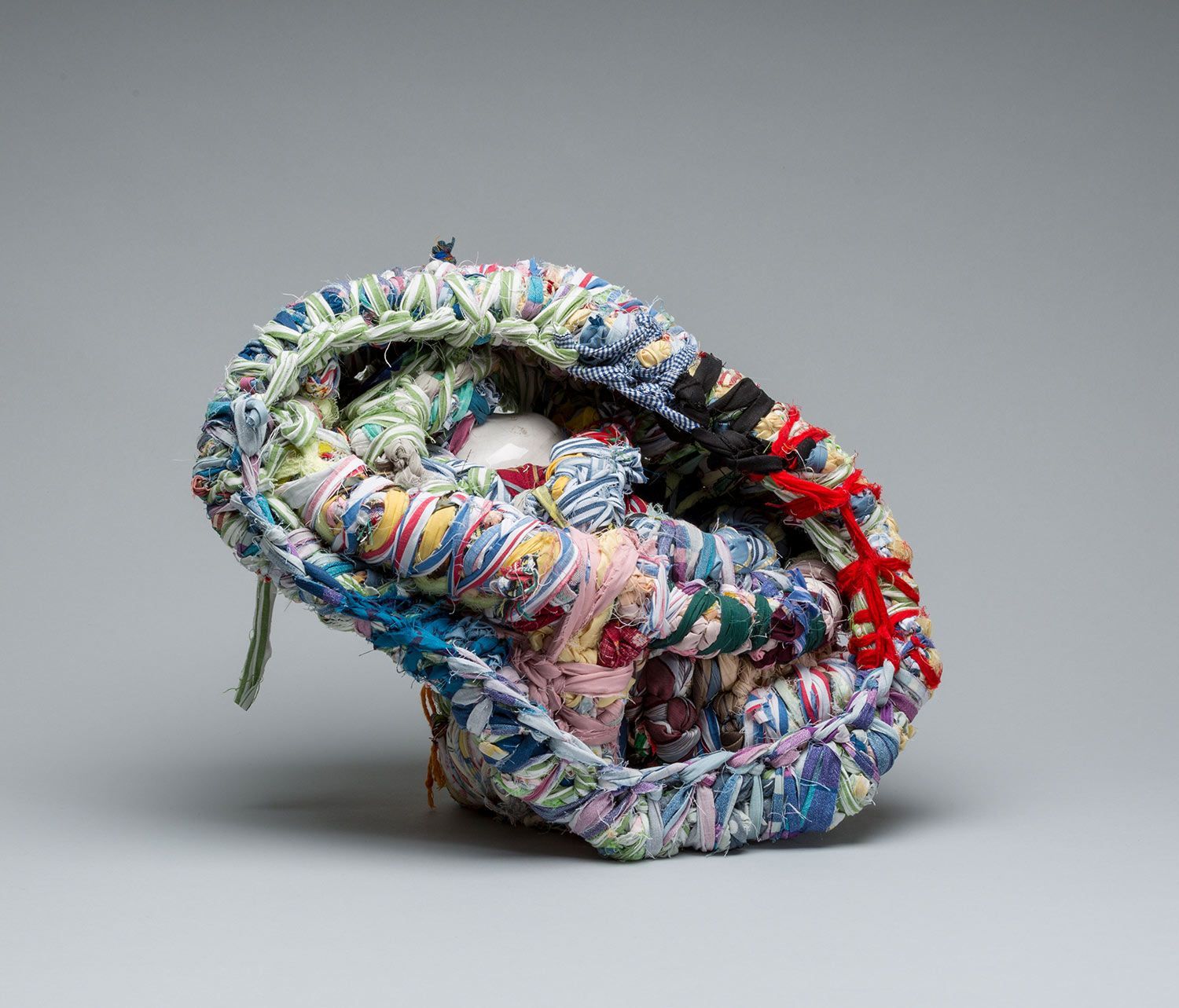 Mending #20
Ramekon O'Arwisters, Mending #20, 2017, fabric, ceramic shards, 13.5" H x 13.5" W x 7" D; Courtesy of Patricia Sweetow Gallery, San Francisco, CA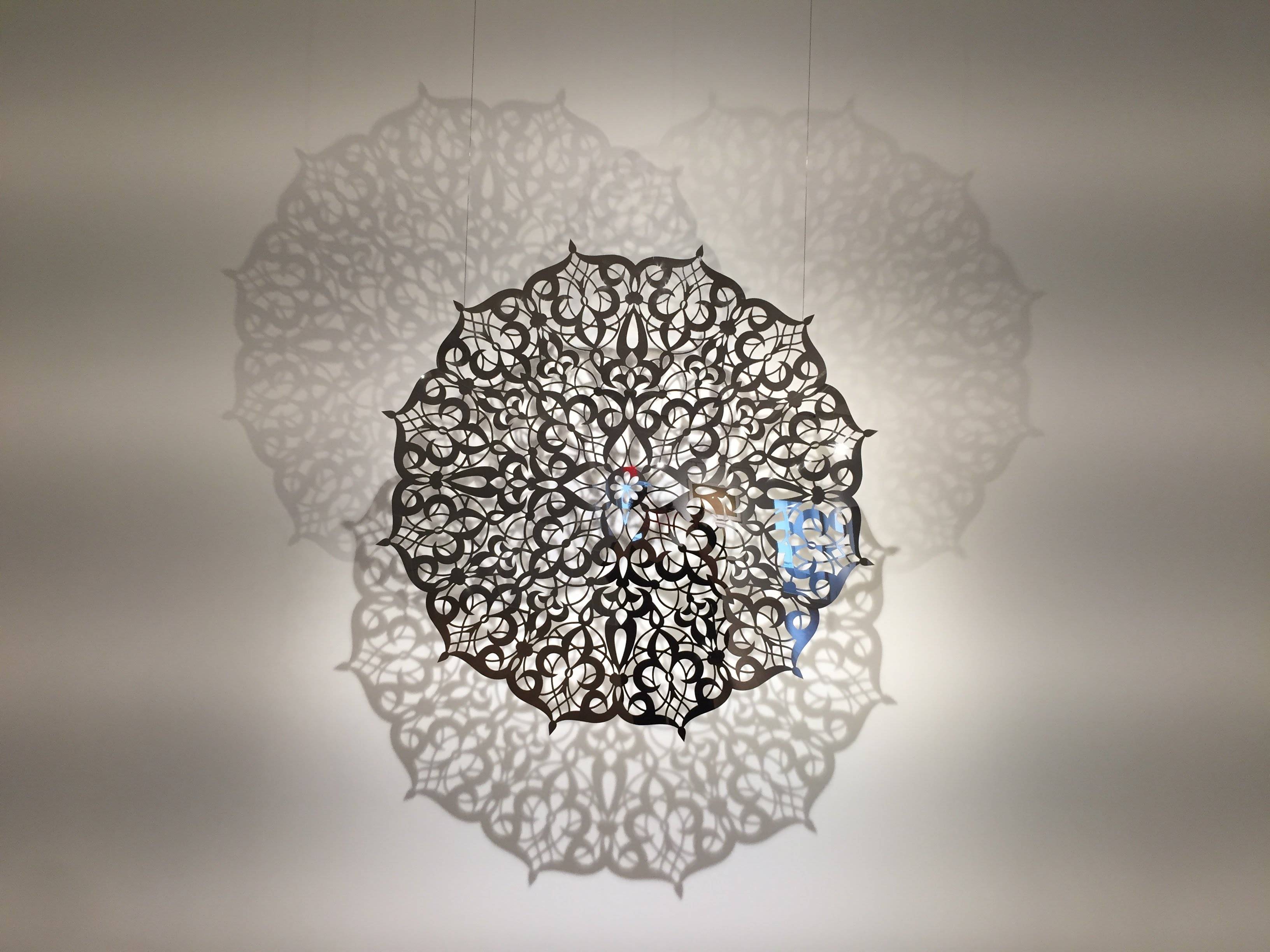 Teardrop (After Robert Irwin)
Anila Quayyum Agha, Teardrop (After Robert Irwin), 2016, polished stainless steel with mirror finished, halogen lighting, ed. 2/8, 46" diameter; Courtesy of Talley Dunn Gallery, Dallas, TX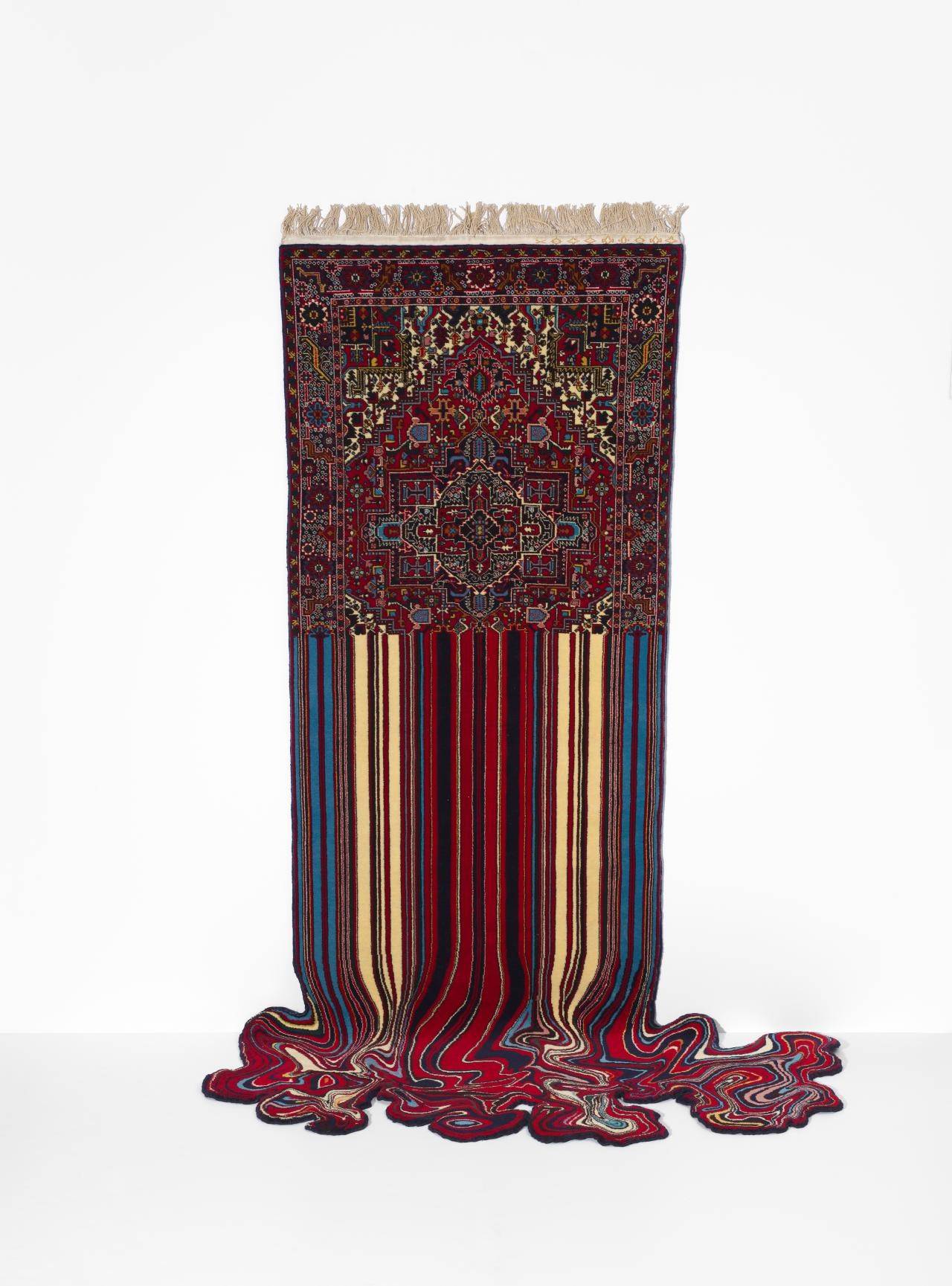 Hal
Faig Ahmed, Hal, 2016, handmade woolen carpet, ed. 2/3, 107" H x 64" W x 16" D; Courtesy of the Rodef Family Collection, San Diego, CA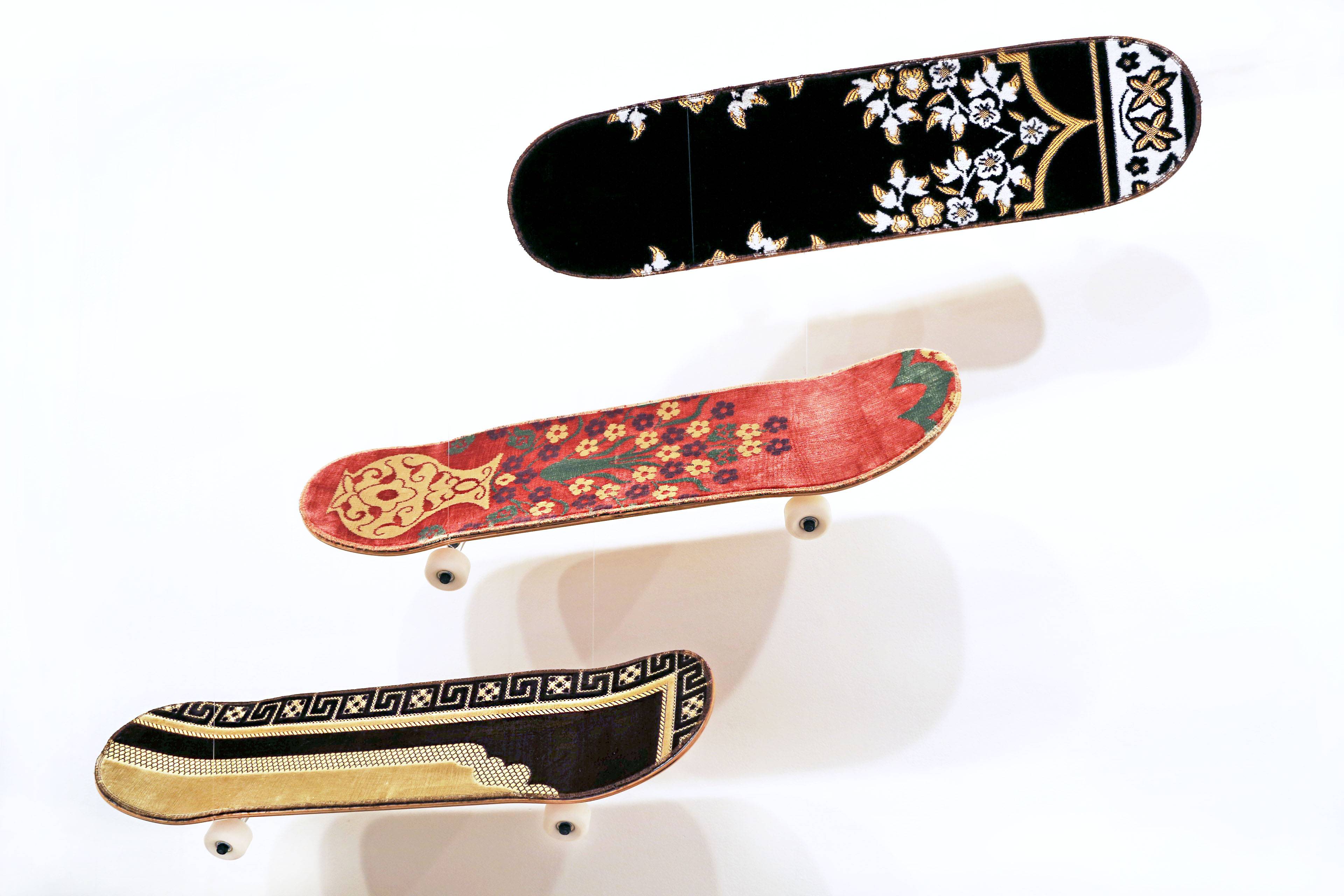 Maximum Sensation
Mounir Fatmi, Maximum Sensation, 2016, skateboards, prayer rugs, approximately 90" H x 192" L x 12" D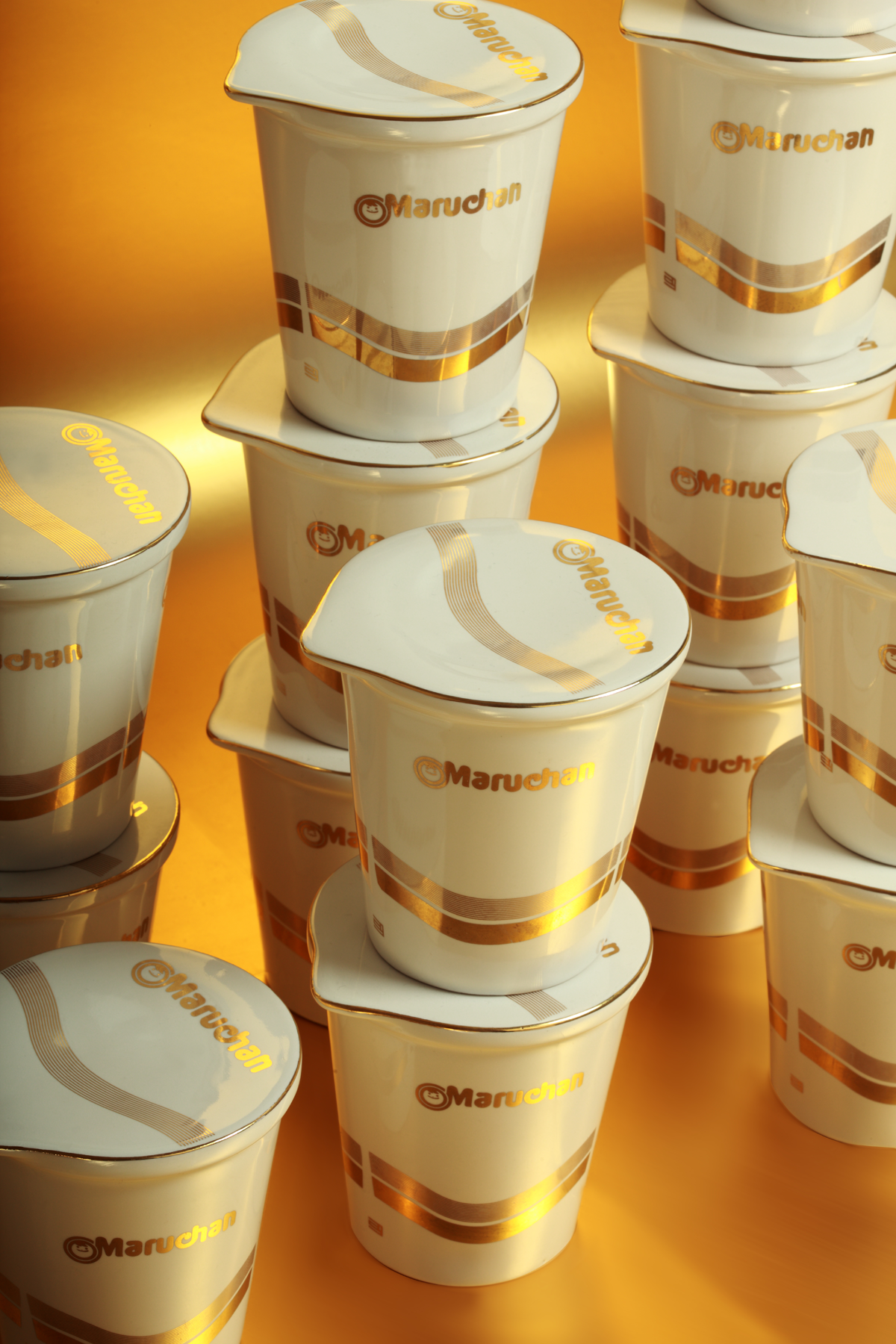 Maruchan from the Disposable series (detail)
Ana Gómez, Maruchan from the Disposable series (detail), 2009, stoneware ceramic, glaze, gold varnish, installation dimensions variable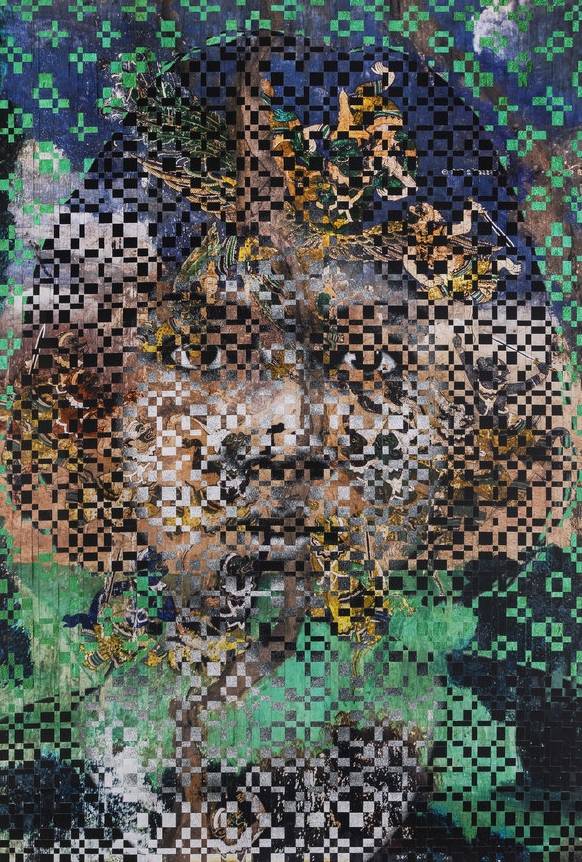 Cracked Reamker
Dinh Q Lê, Cracked Reamker, 2017, C-print, linen tape, 63" H x 42" W; Courtesy of Shoshana Wayne Gallery, Santa Monica, CA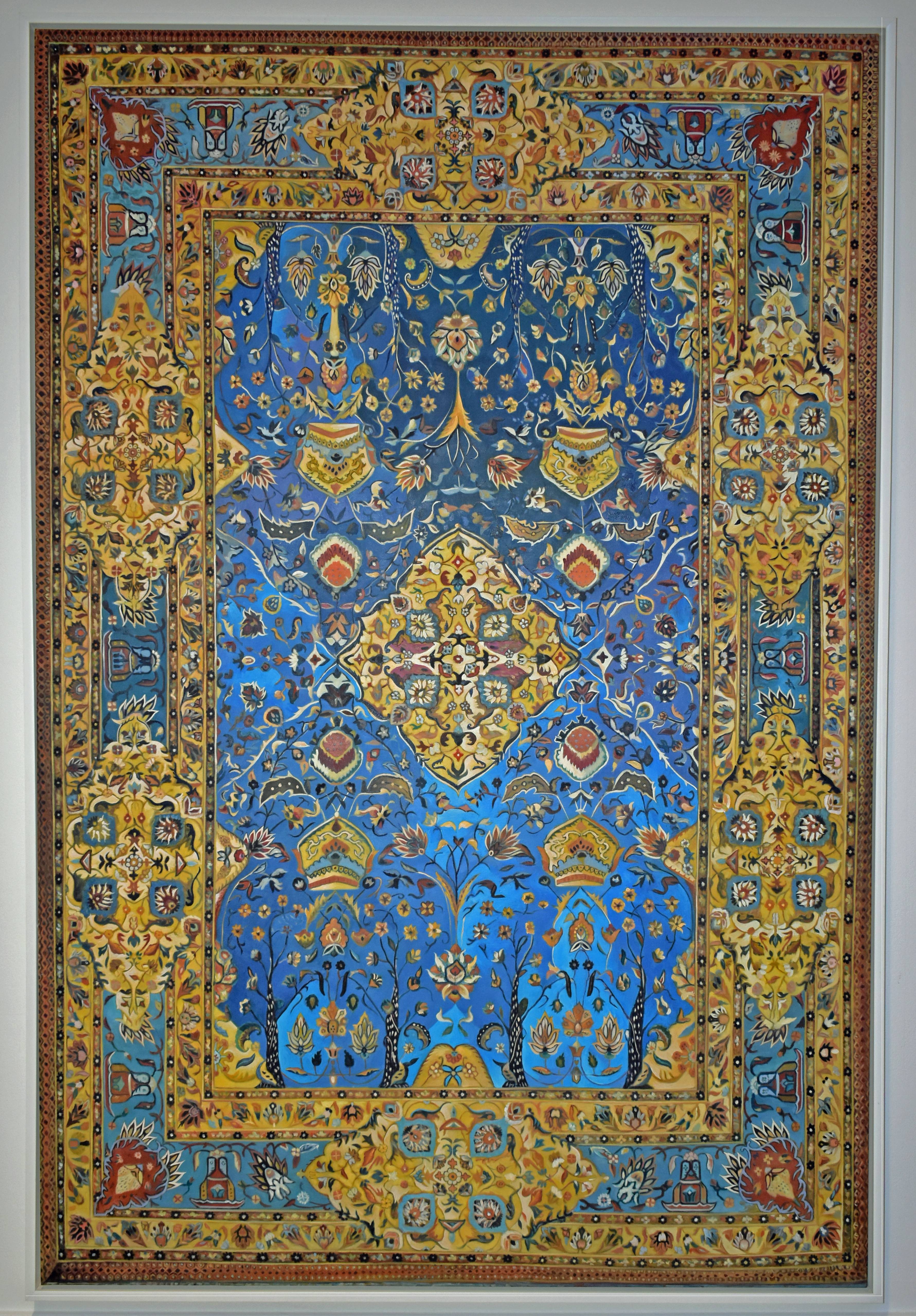 Ocean Bed
Jason Seife, Ocean Bed, 2016-17, oil and acrylic on canvas, 75" H x 50.25" W; Courtesy of the Rodef Family Collection, San Diego, CA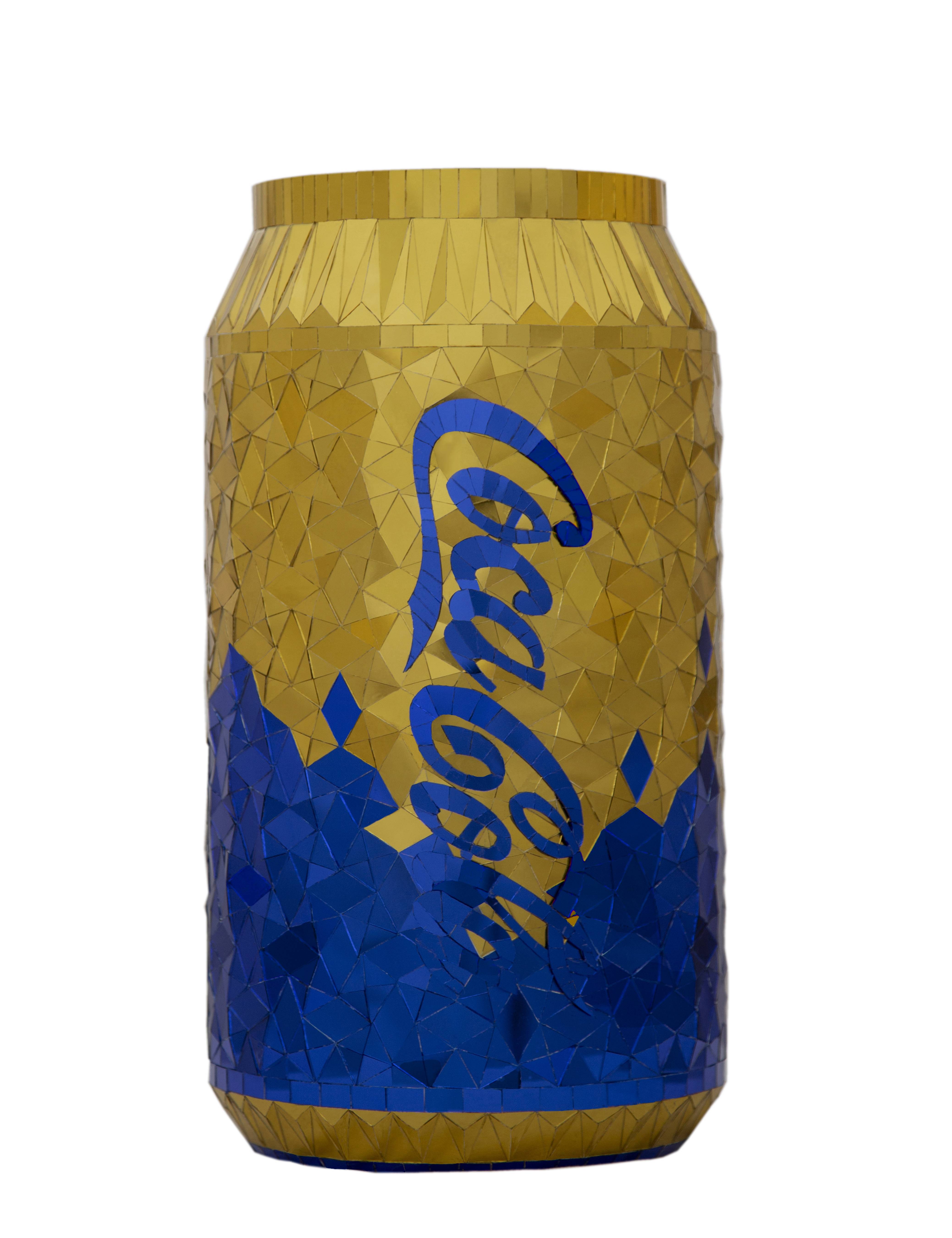 Star cluster at night
Shirin Hosseinvand, Star cluster at night, Persian mirror mosaic, 18" H x 9" diameter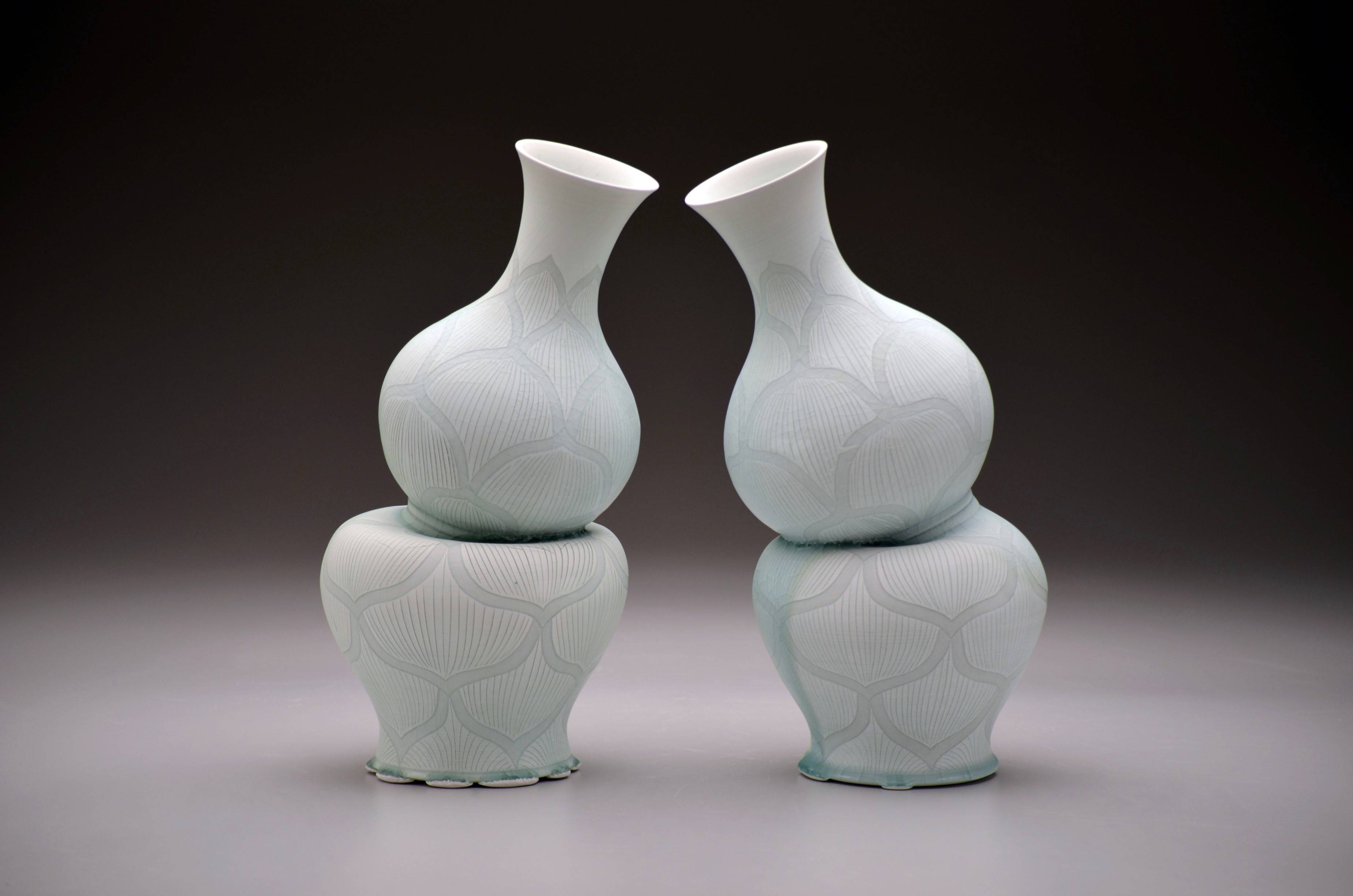 Gourd Vases with Lotus Pattern
Steven Young Lee, Gourd Vases with Lotus Pattern, 2015, porcelain ceramic, white slip, glaze, 16" H x 8" D x 20" W; Courtesy of Duane Reed Gallery, St. Louis, MO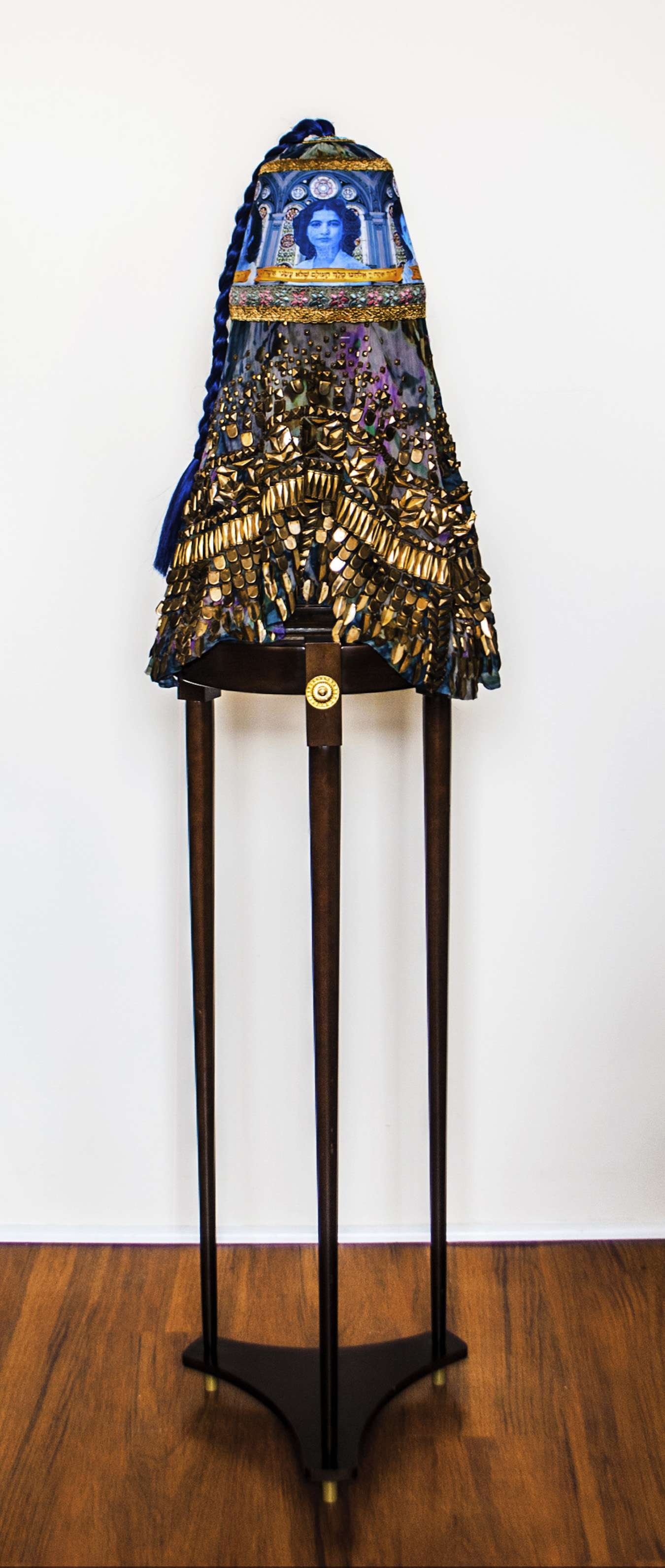 F-Ezra: Made a Woman
Camille Eskell, F-Ezra: Made a Woman, 2014, digital imagery, felt, silk, mixed media, wood pedestal, platform, 55.5" H x 18" W x 18" D
Artists
Tradition Interrupted explores how artists weave contemporary ideas with traditional art and craft to create thought-provoking hybrid images and objects that have caught the world's attention. The 12 artists in this show—and their traditions—hail from every corner of the globe. From rugs and mosaic to metalwork and ceramics, they are merging age-old art and craft customs with innovative techniques that interrupt tradition while still collaborating with the past.
The artists featured in Tradition Interrupted have lived their lives steeped in the traditions of their ancestors and their connections to cultural customs, imagery, and materials are complex. Some have shared the trepidation they felt when they conceptualized and created their art, but in the process of unraveling tradition, these artists are embracing it and bringing it forward. Ancestral memories and political history—at risk of being forgotten in our fast-paced, digital world—take center stage here. It's harder to lose sight of something that is staring right at you.

Serving Up the Present with a Side of the Past
The artists bring a sense of self and sometimes a sense of humor or irony to the work. For Ana Gómez, her Disposable series is a socio-political piece addressing the idea that much of our familial culture, special recipes, food ingredients, as well as the tradition of sitting down together as a family, are getting lost in our fast-paced contemporary lifestyle.
Gómez combines today's take-out containers with ancient ceramic patterns in a way that is both defiant and astute—she acknowledges history and tradition while calling out the present. To create this work, Gómez collaborates with local artisans whom she describes as the "holders of the Mexican ceramic tradition." While the conceptual idea for the Disposable series stems from her studio practice, Gómez describes her collaboration with these artisans as an honor because in her words "they are the true masters."

Using Ancient Techniques to Tell a New Story
The artists in Tradition Interrupted often toggle between past and present, stretching stories and turning tradition on its head to expand or magnify meaning. Faig Ahmed, for instance, makes contemporary carpets that both embrace and distort the traditional architecture of a rug. The carpet begins on the loom as a perfectly woven object, traditionally structured in palette and pattern. Then the piece radically jumps ship, shape-shifting before our eyes as it melts into an abstract image that literally drips in long stretches onto the floor. Steeped in tradition and presenting a bold new vision, Ahmed's surreal carpets are a commanding statement about identity, loss, and change.
Photographer Dinh Q. Lê also revisits familial customs and practices with his unique photo weavings constructed from images of Vietnamese culture, past and present. His weaving technique, which was passed down to him from his aunt, is traditionally used to create Vietnamese grass mats.
Lê weaves imagery of historic sites with found black and white portraits of Cambodian child prisoners to address his personal and traumatic experience of life in Vietnam during the Cambodian Civil War. A poignant example is his Portrait of the Palace where your eyes jump between two woven images. First into focus is a headshot portrait, staring back with a stoic, unforgiving gaze. The image is a historic photograph from the infamous S-21 prison, where thousands of people were tortured and killed between 1975 and 1979.
With these woven works, Lê explores how an image is both read and interrupted. The weaving creates a complex, textured, and emotional image that challenges the meaning and definition of a photograph. The images appear pixelated, creating a sense of order and chaos, as they pull apart and come together to create an entirely new image.
Tradition Interrupted explores the ageless customs tied to comfortable and uncomfortable histories of heritage. In doing so, these international artists unearth transmissions of the past as a means to explore the future. The artworks implore us to slow our pace and consider what might be gleaned, absorbed, or discovered when we investigate ancient rituals and practices.
The final task is left to the viewer to consider aspects of the past, embrace current and future traditions, and reflect on what these shifts and changes mean for all of us moving forward together.
—Carrie Lederer, Curator of Tradition Interrupted
ARTISTS

Explore Tradition Interrupted
Family Guide
This Family Guide leads you through the KMA galleries with discussion prompts. We encourage you to come into the Learning Center and use this guide to create your own artwork inspired by the exhibitions.
more
less
Family Guide (PDF) (PDF)
Also on view
July 10 -
September 25, 2022
July 10 -
September 25, 2022