Crossing the Border: Beneath the Blue Sky
October 3, 2021 -
January 23, 2022
Get tickets
Crossing the Border: Beneath the Blue Sky, by artist Bundith Phunsombatlert, is an installation of fabric flags created by a cyanotype process. The project employs the transparent quality of film and sunlight, and a custom algorithm, to render geometric designs from country flags in a blue tone, capturing the color of the sky.
Exhibition Images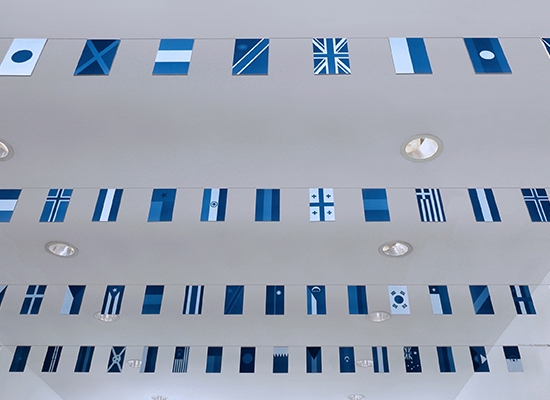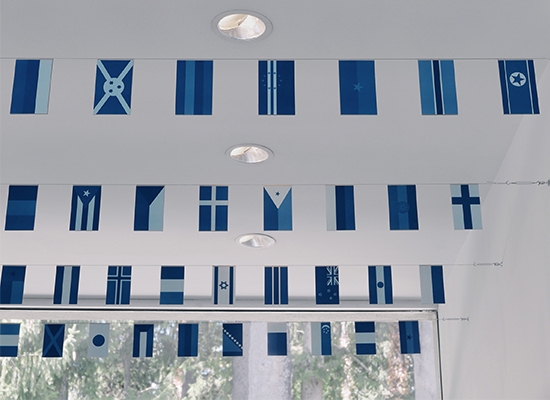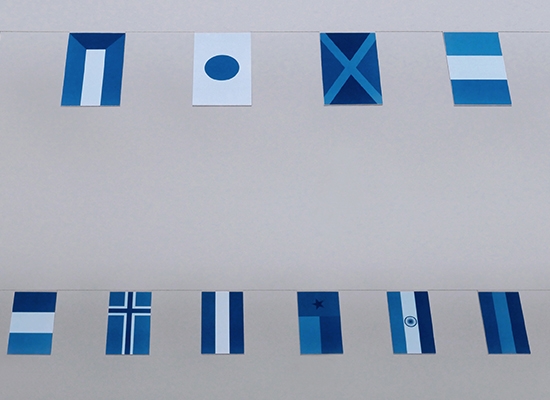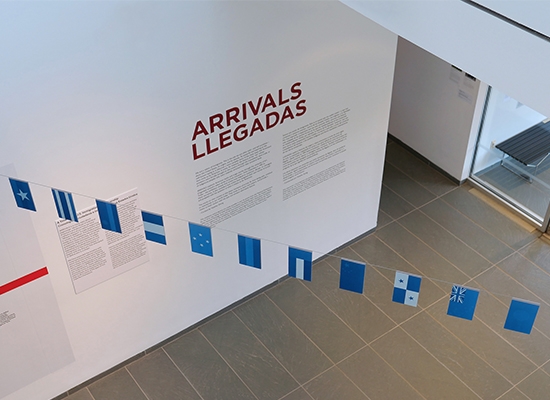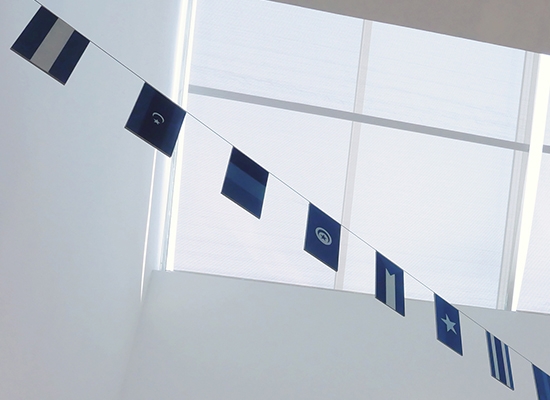 Artist
About the Artist
Bundith Phunsombatlert is an artist exploring media archaeology. Through various forms of media, his artworks examine how new media technology can connect to past forms of media and their contexts, and subtly imbue everyday experiences with new layers of meaning. His work offers a unique definition of "new" media art, defined not only by the use of technology. For him, "new" media can reveal a fresh new meaning of something old, and be defined by the ways in which each individual connects with their personal background and cultural identity, allowing them to reinvent traditional interpretations of history.

His work has been exhibited both nationally and internationally for over twenty years. Selected exhibitions include at the International Studio and Curatorial Program, NY; Wave Hill, NY; Osage Gallery, Hong Kong; International Print Center New York; Smack Mellon, NY; Delaware Art Museum; Cuchifritos Gallery, NY; Flushing Meadows Corona Park/Queens Museum; NYC DOT's Urban Art Program; Socrates Sculpture Park, NY; Changwon Asian Art Festival, South Korea; Location One, NY; The Auckland Triennial, New Zealand; The Guangzhou Triennial, China; The National Gallery, Thailand; The Asia-Pacific Triennial of Contemporary Art, Australia; and The International Biennial of Graphic Art, Slovenia.

He has been awarded grants and residencies from the Puffin Foundation West, Brooklyn Arts Fund, Center for Book Arts, New York State Council on the Arts, Harpo Foundation, Eyebeam, MacDowell Colony, Pollock-Krasner Foundation, Djerassi Resident Artists Program, Skowhegan, Hong Kong International Artists Workshop, Location One, Asian Cultural Council, Second Prize UNESCO Digital Arts Award at the 12th International Symposium on Electronic Arts (ISEA2004), and Grand Prize of the Contemporary Art Exhibition in Thailand. His projects have been reviewed in Art in Print's Prix de Print, Public Art Review, Wall Street Journal, Artnet News, Hyperallergic, Art Asiapacific, and Asian Art News. He received an MFA in Digital+Media from Rhode Island School of Design, USA; and a BFA/MFA in Printmaking from Silpakorn University, Thailand. He lives and works in New York and Bangkok.
Credits
Bundith Phunsombatlert, Crossing the Border: Beneath the Blue Sky, Cyanotype on fabric mounted on museum board, hung on cable lines, 7 x 4 1/4 inches (Each flag), Site-specific installation, With support from Puffin Foundation West, Ltd., Joseph Robert Foundation, and the Katonah Museum of Art.
Also on view
October 3, 2021 -
January 23, 2022
October 3, 2021 -
January 23, 2022
October 3, 2021 -
January 23, 2022
October 3, 2021 -
January 23, 2022