Return to Events
Public Sewing Day with Amanda Browder
August 5 2022 10:00am - 4:00pm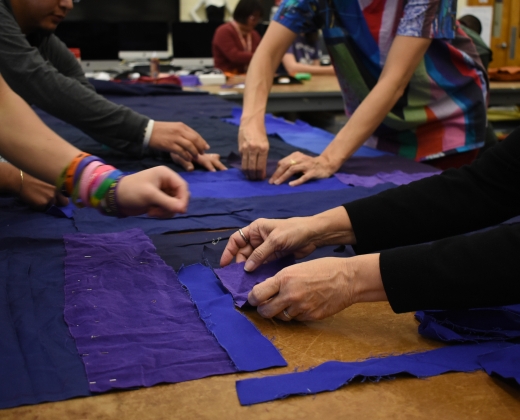 Join Brooklyn-based artist, Amanda Browder, at the KMA for a Public Sewing Day, part of Browder's participatory public art project, "Metropolis Sunrise." Browder will guide community volunteers in the sorting, arranging, pinning, and sewing of fabric parts which will come together to create a large colorful textile sculpture. No previous sewing experience required. Participants will be welcome to explore the Museum's current exhibitions free of charge. Masks are recommended indoors for everyone over age 2, regardless of vaccination status.
About Metropolis Sunrise
ArtsWestchester is commissioning New York State textile artist Amanda Browder to create a monumental work of participatory public art. Browder will design and fabricate a colorful, quilt-like textile sculpture called "Metropolis Sunrise" with help from local residents. Come spring, rich colors will sweep along the brick façade of ArtsWestchester's nine-story neoclassical building in White Plains. The sculpture, to be draped from the top of the building, will be the result of a creative process, months in the making—built by the hands of our Westchester community. The fabric-sculpture will be on display for four to six weeks, beginning October 2022. The public work will be accompanied by an exhibition in our gallery that spotlights the community's participation in the project.
About Amanda Browder
Amanda Browder is a Brooklyn-based installation artist known for her large-scale fabric installations on building exteriors and other public sites. Her work incorporates donated materials and local volunteers, creating site-specific art. She is the recipient of grants from the National Endowment for the Arts, and Transformation Fellowship from University of Nevada, Las Vegas. http://amandabrowder.com/
"Metropolis Sunrise" is presented by ArtsWestchester and made possible by the New York State Council on the Arts with the support of the Governor's Office and the New York State Legislature.
Register Now